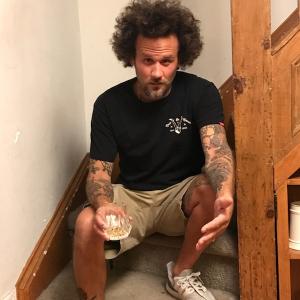 Alexander Slim
With over 20 successful exhibitions and 15 years of creating fine art, Alexandre Slim is a seasoned professional artist. Canadian Born in 1980, Alexandre is based in Montreal however studied at the Ottawa School of Art. Despite his schooling he considers himself to be self-taut. Having traveled the world seeking inspiration Alexandre creates with the same borderless nature in which he lives his life. Although contemporary in nature - the scope of his art has no bounds as it evolves as he does. His pieces encompass his surroundings, the emotional ties and characteristics, and often even incorporate the material elements a setting has to offer. Traditionally relying on cotton canvas, a mixture of acrylic and oil based paints as well as a pallet knife, his canvas, medium and means of application are also often entirely subjective to to what inspires him. From painting on salvaged denim in Ho Chi Minh City to wooden beams in Montreal his pieces are comprised of a mixture of colour, texture; motion and strokes; Chaos and control. His artistic expression serves as a means of self discovery. He paints freely in the moment with no clear idea of the final product. Relying on hues, composition, and inspiration. To date Alexandre has exhibited his work in Ottawa, Montreal and HoChi Minh City. Alexander's work is featured in various hotels and restaurants across the globe and is also a part of Rossy Family Private Collection. From managing his previously owned gallery in downtown Montreal to painting on a beach in southern France, Alexandre's life and values revolve around being an artist.
What do you mean, "try"?
Try-before-you-buy with a 3 month rental. 100% of your rental payments go towards the purchase (interest free). Message the artist directly, and start the conversation.
---
Art made (truly) affordable
We make it easy for you to try art with smart payment plans and try-before-you-buy models.
See How It Works
---
You're covered.
Artwork protection is included on all art rentals up to $5K. Our Customer Care team is always here to help.
Contact Us
---
Unlock Trade Access
For industries including interior design, film/TV production, & real estate staging: rent original pieces that fit with your project vision, budget and timeline.
Apply for Trade Access
---
1% from every transaction goes towards a Canadian arts nonprofit.